When you first search for the best place to get men suits made in Singapore, Far East Plaza or Peninsula Plaza will come to your mind. Only after plenty of trial and error did I realize that even though there are hundreds of shops selling tailored suits in Singapore, none were the people making my clothes
Unfortunately, the high costs of labor and rental has led to the frenzy of outsourcing of both fabric procurement and sewing.
Fabric
Each time a suit is purchased, what's next? I'm sure you will be thinking that some staff from the tailor shop will be in THEIR fabric warehouse finding and cutting the fabric that you selected from the swatch book.
For most tailor shops, it does not make economical sense. Just go to ACRA and you will find thousands of tailor shops, but only a handful of garment factories.
Today, there are the few ways the fabric reaches the clothes factory. The method used is influenced heavily by where the clothes are produced:
Local Fabric Suppliers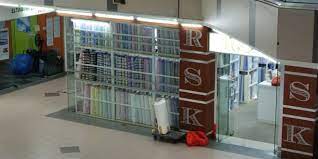 Today there are very few remaining reliable fabric suppliers. These are mostly importers and do not manage the fabric mill. Of these suppliers, 3 of these dominate or own at least 90% of the market share.
One notable supplier is RSK Singapore. Once you order a fabric from their swatch book, the tailor shop will then inform the fabric supplier the fabric code and how much fabric they need.
The fabric company will then find and cut the exact amount of fabric ordered in their warehouse. Then, they will send the fabric to the tailor shop using their dispatch (or motorbike) rider to the shop.
There are several disadvantages using this method.
One, you are selling the same fabrics as many other tailors in Singapore. Many shops change the swatch cover to look different but it is still the same fabric after all. Singaporeans are pretty sharp and see through such trick fast.
Two, there is double mark-up on the fabric costs.  Outsourcing the fabric warehouse management and staff and buying only when you receive an order is both convenient and with low up-front risks. With such convenience, all the foreign worker stamp duty, high labor costs and inventory risks are at a cost which is in turn passed on to consumers.
Bangkok Fabric Suppliers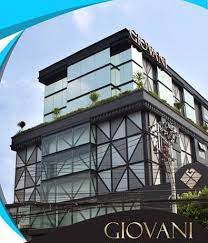 Bangkok fabric companies uses the same method. The tailor shop uses the swatch book to sell and call the fabric supplier. Then, the fabric suppliers find and cut the fabric and dispatches the order to the tailor store.
Like Singapore, there are only 3-4 notable brands. The biggest brand is Giovani or Wooltex. Of course, there are other reliable fabric mills in Thailand like Thai Textiles for iron free fabrics. However, they do not usually cater to tailor shops as their Minimum Order Quantity is high (at least 100m per color per fabric).
Quality wise, the fabrics in Singapore are a lot better. Fabrics in Thailand tend to look thicker but with the same thread-count. What this means is that the fabric look luxurious at first sight but after less than 5 washes, the fabric will start to fray. Do comment if you have faced this!
China Mega Factories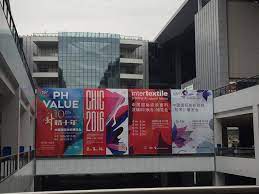 Industrialization in China is at a whole new level. Many state owned Chinese or privately owned Hongkong tailor factories do stock fabrics within their factory premises. In most cases, they are located very close to fabric mills or warehouses of fabrics they stock up.
So if you choose a Chinese production factory, you have to choose THEIR fabrics. While fabrics from these factories are generally reliable, they offer very limited range of affordable fabrics and there are several production issues due to high turnover (as Chinese demands better jobs today).
Commonly, tailor shops that outsource to China tend to outsource to 2-3 different factories to increase their fabric range.  This leads to inconsistent results as different factories have different measurement standards.
Keeping Inventory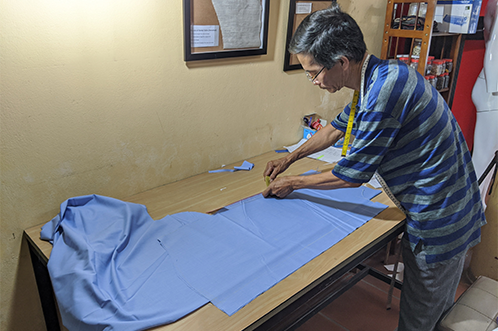 Every tailor store claims they buy in bulk, hand select the best materials etc. In reality, it is tough to do so. You have to attend trade shows, then visit their factories to check their capability, then there is the paperwork and logistics import to your warehouse.
Of course, this is recommended because you skip unnecessary middlemen and unnecessary logistics costs. Then these savings can be passed on to consumers. But of course, the risks is obvious which is why less than 10 tailors in Singapore keep a sizable fabric inventory. When business is bad, your cash flow are severely affected.
At ethan men, we buy more than 70% of our fabrics direct from fabric mills. This includes plain colours, checkered or linen fabrics which customers like and order often so we can meet the MOQ(minimum order quantity) of the fabric mill.
For other fabrics (i.e. pattern fabrics for shirt contrast, unpopular colors like green or yellow), we will order in larger quantities rather than order when we receive the order. This will allow us to negotiate a better deal and save unnecessary logistics cost and time.
Production
Now this  is the part where it is almost impossible to attain any proper information online. Generally, there are several categories of production routes shops take:
Outsourcing to Sweatshops in Batam & Johor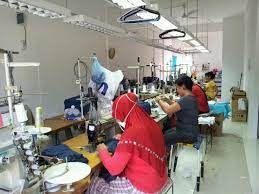 For stores that promise 1 or 2 days, this is usually the production method used. A representative from the factory will collect the fabric and does all the logistics arrangements for the fabric to reach the factory, then back to the shop.
Due to the abundance of workers in these Johor and Batam, this is the fastest and most convenient method of production. In fact, most tailored suits are made in Batam or Johor Bahru whereas most tailored shirts are made in Singapore.
Interestingly, most shirt tailor factories in UBI also outsource their suit production to Batam! Today, with all the tightening of foreign labour, many of these factories earn from their suit sales (which they do not manufacture) rather than the shirts which they produce in-house.
Outsourcing to Sweatshops in Bangkok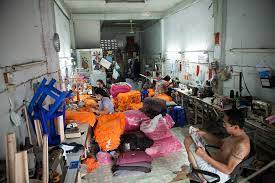 Today, many tailor startups today outsource to sweatshops in Bangkok.  Prices are significantly cheaper due to intense competition between sweatshop tailors in Bangkok. Unlike sweatshop owners in Batam and Johor that speak only Bahasa Indonesia or Malay, many Thais have a basic command of English.
By managing the logistics well, the cost of production can be significantly cheaper than other methods. However, conditions of sweatshops in Thailand are terrible and there is a large difference in the number of clothes orders between peak tourist seasons and off-peak seasons.
Partial Outsource
This applies to 2 groups. One, local jacket tailors. Two, shirt tailor factories usually in Ubi or Paya Lebar area.
Many famous tailor shop owners are actually only jacket tailors. As tailoring requires specialized craft skills, it is not possible to be good and fast in all 3 items jackets, trousers and shirts. So it makes sense that most of the time, if you do see them cutting, they usually cut only the jacket.
While it helps that they have strong tailoring basics, they are a lot more expensive. So, if you are not looking for a perfect suit, it makes sense to seek other options especially if you are looking for only shirts or trousers.
In-house Tailoring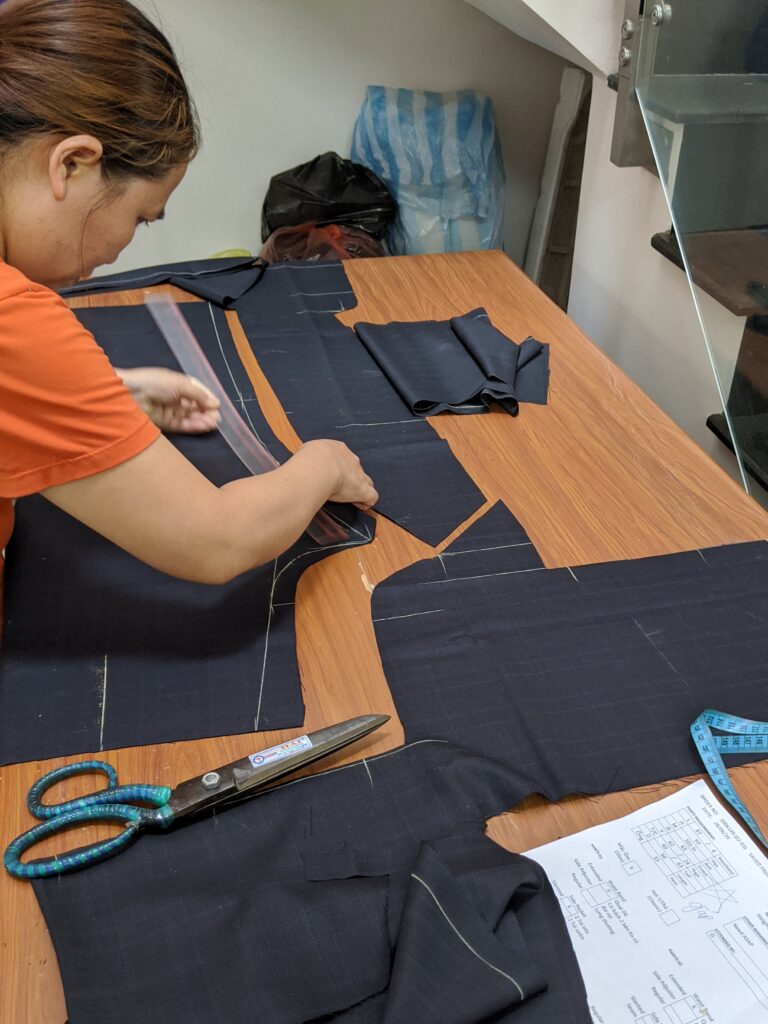 Many tailor shops claim or act like they have In-house tailors. In reality, not many Singaporean are willing to undertake such manual labor anymore. Most local seamstresses are also not comparable in terms of price, speed and sewing quality as compared to neighboring countries.
In fact, most seamstresses today are work permit holders from Malaysia and China. Even these seamstresses are short in supply and are either slowly moving to "easier" retail or hospitality jobs or returning to their countries (like China) where salaries are getting competitive. The recent changes to foreign worker levy and quota also accelerate this trend.
For a balance between quality and value, it is inevitable for us to move our production overseas.
Other than some suit jacket tailors or local shirt factories that partially outsource, we understand that we are the only shop with our production line. There are several key reasons we do not wish to outsource at all.
One, outsource factories pay their staff for every item made. So for busy days, their seamstress rush through and produce unacceptable work.
Two, we are insistent on using components (i.e. zips, canvas, waistband etc) we want to use. When we outsource, most factories do not wish to disrupt their operational flow and clients are forced to only use their components. However, as they charge a competitive price per item, they are not incentivized to use better components.
Three, there is also the inconsistent cutting. Behind the scenes, there is a lot of work between management and cutter. We also ensure for every return customer that reorders, the shirt or suit is cut by the same tailor. If we had outsourced, many times the cutting is different and there is wastage of unnecessary time.
ethan men was hence set up, to provide affordable tailored suits in Singapore for the modern man.